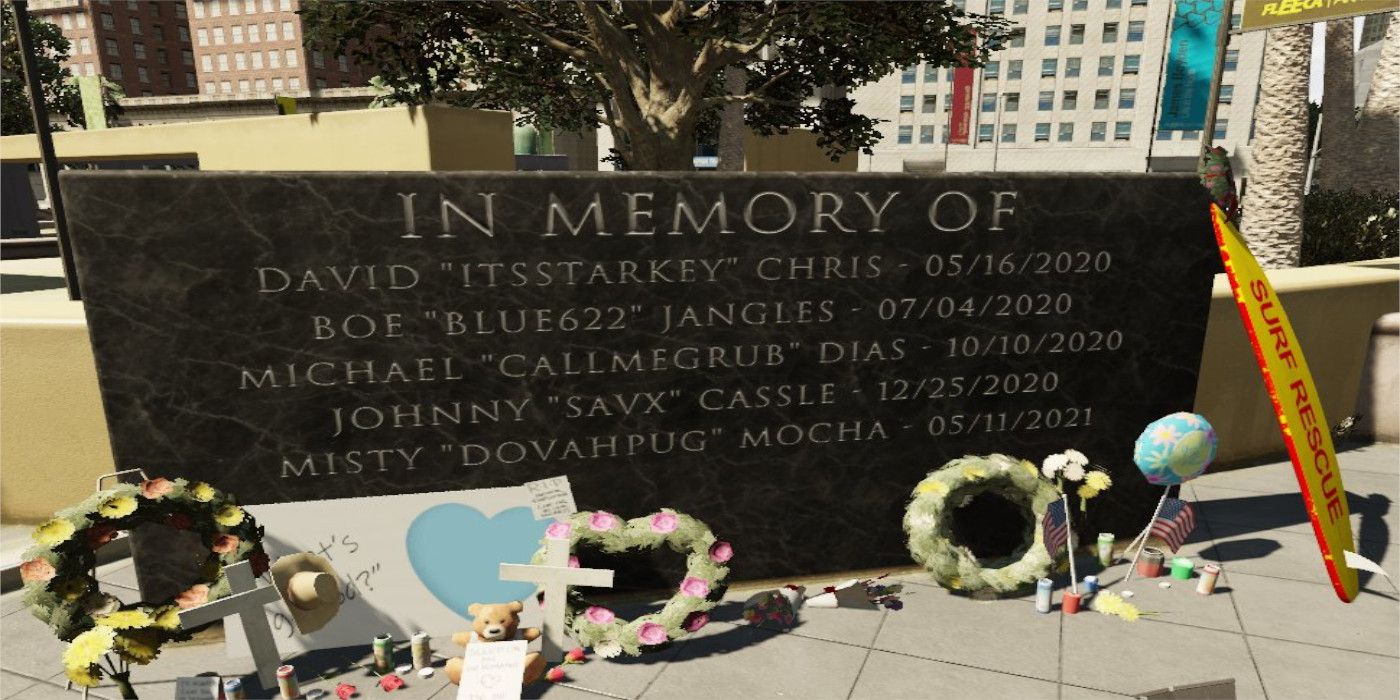 The popular Grand Theft Auto Online Roleplaying NoPixel server adds a memorial for Misty Mocha, a streamer who recently passed.
The NoPixel Roleplaying server for Grand Theft Auto Online has been extremely popular in recent months with a lot of big streamers getting in on the action. Now, the server is updating a memorial to honor Misty Mocha, a Grand Theft Auto Online streamer who passed away earlier this week.
News of Misty Mocha's passing was announced on May 11 via Twitter due to her prolonged fight with cancer. The Grand Theft Auto roleplaying community is close-knit, so many players voiced their hope that the server would update its in-game memorial for players who have passed to add Misty Mocha.
RELATED: Developer Beats Grand Theft Auto DMCA Claim
Continue scrolling to keep reading
Click the button below to start this article in quick view.
In a tweet on May 12, NoPixel developer Tobii revealed that the server would be doing just that. The Memorial Wall is a small black wall located in Legion Square at the center of the server's map. Each name on the memorial has the streamer's name, their character's name, their date of passing, and a small memento that references some of the streamer's best moments on the server. With the addition of Misty Mocha, the memorial has reached six names in total including David Chris, Boe Jangles, Michael Dias, and Johnny Cassle. The Grand Theft Auto Roleplaying community has been growing steadily, and the memorial addition has received a lot of praise from many community members.
Her passing is still incredibly sad, but the memorial is a nice addition for her fans and friends on the server that want a way to honor her memory. Grand Theft Auto roleplaying has had a fair share of drama surrounding what happens on the NoPixel server, but it is great to see the community come together as much as it has to celebrate Misty Mocha's memory. Many comments on the tweet announcing her passing also expressed their surprise at her passing, as they had no idea that she was battling cancer. Hopefully, the new monument can help those players get closure on her passing as well.
Online gaming holds a very powerful position in the games industry. It allows players to connect with one another in meaningful ways that offline experiences can't always offer. This makes losing an online friend just as difficult as losing one known in real life, and it is great to see NoPixel make sure to honor the friends that the community has lost along the way. Other online games, like EVE Online, have also don't incredible things with their community, and the NoPixel server is just another example of how powerful those online connections and communities can be.
Grand Theft Auto Online is available now for PC, PlayStation 3, PlayStation 4, Xbox 360, and Xbox One. PlayStation 5 and Xbox Series X/S versions are currently in development.
MORE: The Case for GTA Online to Be More Interactive Like Fortnite
Assassin's Creed Valhalla: Wrath of the Druids – How to Get Lynx Mount