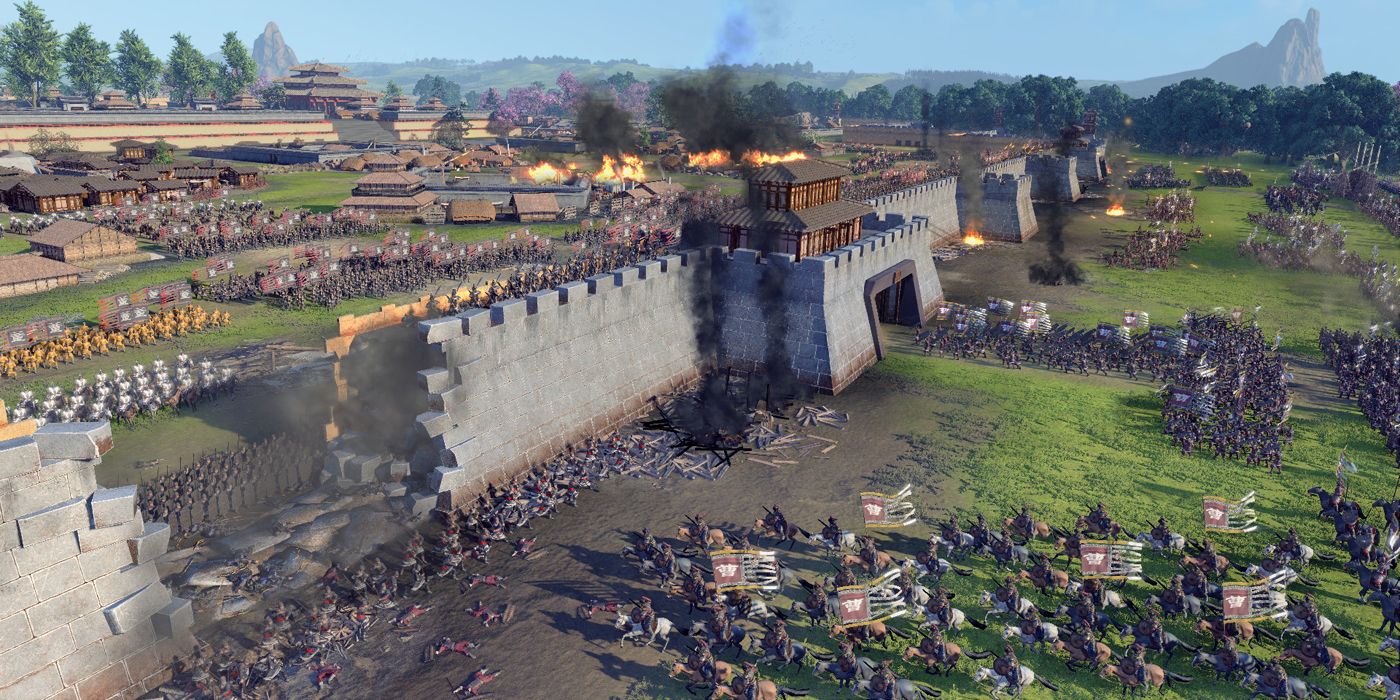 Total War: Three Kingdoms and other Creative Assembly titles get review bombed after the developer ends official support for the two-year-old game.
Burying an otherwise popular game in negative reviews is a common way for gamers to voice their displeasure. Recently, Total War: Three Kingdoms became the latest recipient of mass review bombing.
Total War: Three Kingdoms enjoyed positive user reviews until developer Creative Assembly announced the end of post-launch support on Thursday. Outraged fans claim this leaves multiple unfixed bugs and responded by flooding the game's Steam store page with negative reviews.
RELATED: Total War: Rome – 10 Tips Beginners Need To Know To Complete The Main Campaign
Before the announcement, Total War: Three Kingdoms enjoyed an average user rating of Mostly Positive. However, its recent reviews dropped to overwhelming Negative in the days since the announcement. According to Steam, only 15% of recent reviews were positive. Some players attempted a similar review bombing of DLC for Total War: Warhammer II. However, it was less successful thanks to a coordinated effort by Warhammer II fans organized on Reddit. DLC for Total War: Three Kingdoms received similar treatment to their parent game.
Continue scrolling to keep reading
Click the button below to start this article in quick view.
https://www.youtube.com/watch?v=0zId4puekfU?feature=oembed
Much of the anger comes from bugs introduced by the Fates Divided DLC released in March. Players claim that many critical issues still remain unresolved. With support ending after the release of 1.7.1, it seems the game's problems will continue to go unaddressed. Fans are also angry that Creative Assembly appears to have quietly dropped plans to expand the Total War: Three Kingdoms map. Last year, a blog post promised an update that would "focus on building out the North of the map." It never materialized.
According to an update video from the 27th, Creative Assembly decided to end support so the studio can focus on its next game. The new project, currently in pre-production, takes place in the same Three Kingdoms period of ancient Chinese history. While some fans might have been excited by the prospect of a Total War: Three Kingdoms II, abruptly ending support for a two-year-old game overshadowed any potential excitement. The perception that Creative Assembly is abandoning a popular game to work on its replacement likely does not help. As of Friday, May 30th, the update video has almost seven thousand dislikes on YouTube, compared to less than three thousand likes.
Something that happened:

Creative Assembly discounted Total War Three Kingdoms so people would buy it.

And then dropped the news a week later they were no longer going to support it and cancelled all planned DLC.

It was released less than two years ago. People. Are. PISSED. pic.twitter.com/CxfkktQDZK

— Christina Tasty (@ChristinaTasty) May 28, 2021
Gamers are clearly furious over Creative Assembly's decision. Some have gone as far as to say Creative Assembly recently put the game on sale to squeeze out the last bit of extra money before dropping support. The only choice may be for mods to fix the game, similar to Skyrim's quality of life mods.
For its part, Creative Assembly has yet to address the controversy. However, according to the video from Thursday, the studio plans to continue engaging with player feedback. Presumably, it did not anticipate such an overwhelmingly negative response.
Total War: Three Kingdoms is available on Linux, Mac, and Windows PC.
MORE: New Total War Warhammer 3 Trailer Shows Off Kislev Troops
Hyrule Warriors: Age of Calamity Expansion Pass Exploit Makes the Pass Free