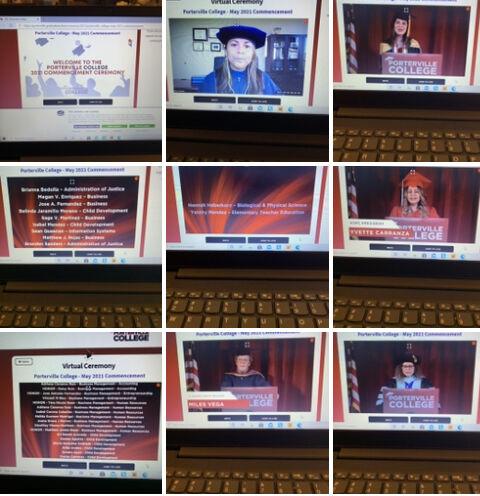 Porterville College virtually graduated close to 700 students Friday evening, including eight high school students who earned their college diploma before their high school diploma as part of a dual enrollment program.
"I know you all have mixed feelings about this virtual graduation. It may not be exactly what you and I imagined or what we wanted but the most important thing is that we are graduating and our hard work has finally paid off," said Yvette Carranza, ASPC President, one of two keynote speakers who spoke later in the program. "We will always appreciate the chance we have been given to love, live, smile and keep on dreaming big."
In the Spring of 2020, before returning from break, Carranza said they had no way of knowing it would be their last days in the classroom.
"COVID-19 hit us like a tidal wave. Our existence has been changed forever and these times we are living in will go down in history as some of the most trying times for all of human kind," Carranza said. "We did not lie down and let this pandemic take us over."
No matter how uncertain the future was, or bleak the outlook, the virus didn't take away the graduates' education, Carranza said.
"Here we are, strong and united as Porterville College graduates of 2021," Carranza said. "Keep that strong will and determination that got you to this moment in your life….We need to set our aims high and we need to reach even higher."
The virtual program began with Pomp and Circumstance music over video footage of the campus, complete with foothills and the Sequoia Nevada mountains in the background.
With VP of Student Services Primavera Arvizu serving as Master of Ceremonies, the virtual program opened with a welcome to the 93rd Commencement Ceremony of Porterville College, and the National Anthem sung by a graduated student.
Welcomes were also offered by Tom Burke, Chancellor of Kern Community College District and PC President Claudia Habib, who talked about never forgetting the past year nor the challenges the students overcame.
"You have crossed the finish line and I want you to know how proud I am of each one of you," Habib said.
Keynote speaker Daisy Gonzales, Deputy Chancellor, California Community Colleges, offered the 2021 Commencement Keynote. She shared her journey from entering foster care at the age of 2, to her current position as the first Latina to serve as second in command for the country's largest higher-education system.
"When you go out into the workforce, remind your employers of that – that you completed your education during a world-wide pandemic," Gonzales said. "So now, Class of 2021, you have endured the unimaginable, and as you prepare to continue your education and your career, I want you to never be afraid to ask for help."
Thad Russel, VP of Instruction than recognized Phi Theta Kappa students. Including the 36 students recognized with Medals of Distinction, and two students, Yatziry Yamileth Mendez and Hannah Haberkorn, as Porterville College 2021 Scholars of the Year.
Miles Vega, PC Academic Senate President and Habib then recommended the graduating candidates' Associate of Art and Associate of Science be conferred.
And as Pomp and Circumstance once again played, one by one the names of all the graduates were read.
"Will the graduating class attending virtually, and the nursing students attending in person, please stand," Habib said and asked them all to move their cap tassel from right to left. "On behalf of the faculty, staff, administration and board of trustees, I congratulate you on your achievement and wish you continued success."